How much deposit do I need to put down?
First Time Buyer Mortgage Advice in Sheffield
First time buyers, home movers, landlords and the self employed will always ask the same question when it comes to applying for a mortgage – "how much can I borrow?".

The answer varies depending on your individual situation. For example, how much you can borrow could change depending on your credit score, income, bank statements and your personal situation.

Let's take a look into 'how much you can borrow for a mortgage' and how things have changed following the credit crunch.

Historic rules when borrowing for a mortgage
Long before the credit crunch, credit scoring was non-existent and mortgages were manually assessed by your local building society manager. Then, during the 1990s, lenders started performing income assessments to provide a consistent approach across applicants.

Maximum lending caps were also introduced. This meant that customers couldn't borrow more than three to four times their annual income. Scary to think that before people could!

Despite these lending caps in place, in the early 2000s, lender's income multipliers grew more generous. This meant that more and more people were borrowing more than they can afford to pay back. Furthermore, some lenders were even allowing some of their customers to 'self-certify' their income with minimal/no background checks such as payslips.

Of course, all of this went very wrong. Lenders were lending to applicants that couldn't afford to pay them back, therefore the market crashed and all of sudden, it became extremely hard to get a mortgage from 2008-2010. Lenders tightened their margins and created a cautious (over-corrected) lending environment.

Nowadays approach to how much I can borrow
In 2014, the Mortgage Market Review (MMR) was introduced. This initiative helped the market get back up on its feet; it brought a new set of guidelines for lenders to adhere to. The old income multiplier method was scrapped and replaced with new, more sophisticated affordability calculators.

These new affordability calculators provided a closer look into an applicant's spending habits and net disposable income. This meant that the lender could have an in-depth look at your bank statements to ensure unaffordable mortgages were not granted as they were before the Mortgage Market Review.

There is still a "lending cap" in place at about 4.75 times your annual income but your expenditures are also analysed. For example, lenders seem to penalise low-earners and even things like gambling showing up on your bank statements can sometimes affect your chances of being accepted. Some take pension contributions as a fixed outgoing so would often lend, say a public sector worker with a big pension deduction less than a private sector and so on.

Mortgage Broker in Sheffield
If you are currently trying to work out how much that you borrow, we would recommend trying our online free affordability calculator or speaking to us for a more accurate measure. A Mortgage Advisor in Sheffield will research the market on your behalf and try to find a lender that will lend you the amount you need.

Before you take out a mortgage you should sit down with a First Time Buyer Mortgage Advisor in Sheffield and work out your finances together to ensure that the repayments feel comfortable to you.
Improving your Credit Score in Sheffield | Mortgage Advice in Sheffield
Credit Score Mortgage Advice in Sheffield
The higher that your credit score is, the higher the likelihood that your application will be accepted by the mortgage lender. This is different to the likelihood of someone with a poor credit score finding the same success. A mortgage lender will study your application carefully in order to make sure you can definitely afford their mortgage.

That being said, there are still no guarantees when it comes to mortgages, even if your credit score is pretty high. Each mortgage lender will have their own specific criteria that you need to match in order to obtain their deal, and it is unlikely that you will meet all of those.

Each lenders criteria could be vastly different to another and they have developed their own unique ways of figuring out whether you match what they're looking for or not. In some cases, you might actually find yourself matching up with the majority of them and in some cases, maybe you only match up with a few of them.

It is the job of your dedicated mortgage advisor in Sheffield to work alongside you and find the right lender who is offering the best deal for your personal circumstances, with criteria that you can meet. Whether your advisor is from your bank, the lender or a trusted mortgage broker in Sheffield like us, they will match you up to your mortgage needs as best they can.

Getting in touch with a mortgage broker in Sheffield will be of a great benefit to you, as our experienced mortgage advisors will work their hardest to find you the best deal for your personal situation, always having your best interests at heart.

You will be updated on a regular basis with exactly what is going on, so you're not left stressed and confused about the process. It's one of our many aims during your mortgage journey to make sure everything goes as smoothly and stress-free as it possibly can.

Whether you are a First Time Buyer in Sheffield, planning on Moving Home in Sheffield or Self Employed, we will do our best to provide you with helpful tips and tricks to help you improve your credit score and eventually, secure an amazing mortgage that you'll be thrilled to be walking away with.
Credit Score Mortgage Advisor in Sheffield
There are a variety of different credit reference agencies in Sheffield you could go with, though the most popular ones are Experian and Equifax. Before you rush into anything, make sure that you do some research into each agency as it is possible that some of them may be holding incorrect data and it could help you identify any discrepancies.

We personally would suggest using a platform called Check My File, as this collates data from all the major ones like the aforementioned two, giving you a wider overview of how your credit file is looking. In signing up, you will receive a free 30-day trial, followed by a monthly fee of £14.99. Your account can be cancelled at any time prior to the end of the trial should you see fit.

There are lots of different things you can do to improve your credit score. Here we have some for you to have a look at:
Avoid Unnecessary Credit Searches
You will find that having multiple credit searches taken out against you could actually end up having a negative effect on your credit score in the long run. Even the use of price comparison websites is a factor that could harm your credit score.

If you are planning to apply for a mortgage, we strongly suggest that you avoid applying for any other credit in the meantime. Paying your credit back is a good thing for your score in the long run, providing that you can show lenders that you are able to maintain your monthly repayments.

That being said, borrowing during a mortgage application is something that could make the lender think that you cannot afford the deposit and are relying on the credit to give you a financial boost.
Check You Are On The Voters' Roll
A great yet very simple way for you to get a boost to your credit score, is to register yourself for the electoral roll. It can demonstrate stability and this is something that the lenders like to see. You must make sure that your name is spelled correctly, and you must include your current registered address, not your previous one.

If you are not registered on the voters' roll, you should definitely sign up for it. It is very easy to do online and it is something that could contribute well to improving your credit score.
Don't Run Close to Your Maximum Limit
Maxing out your card each month is something else that can actually reduce your credit score. The lender will prefer to see that you are using a credit card and paying off the balance in full each month, as this will show that you are good with your money management.

If a lender sees that you are exceeding credit card limits or overdrafts,it might give them the impression that you don't take your finances seriously. This once again could drastically harm your chances of getting accepted for a mortgage.
Check Your Address History is Keyed Correctly
Sometimes, if you have forgotten to tell a previous credit provider that you've moved into a new property, it can come across like you are actually living in multiple properties at the same time. Lenders don't like to see this so you must make sure that you are on top of your address history so that it displays correctly on your credit report.
Remove Financial Links To Others
If you have a family member or ex-partner financially linked to you, this could be affecting your score without you even being aware of it. If the account is still live, then you won't be able to get the financial association removed. If you want to remove any of these links, you should absolutely get in touch with the credit reference agencies and make a request.

Applicants see credit scoring as an unfair way to assess a mortgage application. Your mortgage lender would disagree with that, as at the end of the day, they are in the business of making money and they need to be sure you will be able to keep up your payments. It's also much cheaper for them to operate through a computer-generated credit scoring system, as this keeps the process consistent and efficient.

Send an up-to-date copy of your credit report to your dedicated mortgage advisor in Sheffield ahead of time to increase your chances of being accepted the first time. The more your in-the-know your advisor is regarding your finances, the better it will be.

Also, there are still some lenders that prefer to operate the way companies used to and will manually assess your application. They will still have rules that they stick by regarding the number of defaults and CCJs that they will allow customers to have.
Single Mortgage Application When Married in Sheffield
Mortgage Advice in Sheffield
Applying for a mortgage as a single applicant whilst married is not uncommon. There are, several reasons that can justify applying for a mortgage in just one name, and some lenders will consider this arrangement.

Reasons, why a single application can be more fitting than a joint mortgage, is if:
Your partner has bad credit or a CCJ on their credit file.
One applicant is unemployed.
You're using a deposit from your savings.
Your partner already has a mortgage.
One applicant has a much lower income than the other.
There are many more reasons to get a sole mortgage when you're married. Our mortgage advisors in Sheffield are available seven days a week to book you in for a free mortgage consultation and help you get started.
Applying for a sole mortgage while still married
Some lenders will only accept a joint mortgage if you're married. However, there are lenders out there that will allow for sole applicants whilst married to get a mortgage.

If you are looking to take out a mortgage in your sole name, you should contact a mortgage broker in Sheffield. We have been in the mortgage business for over two decades now, making us knowledgeable mortgage experts in the field. We can search through thousands of deals on your behalf, hopefully finding a mortgage to suit your circumstances.
Our mortgage advisors in Sheffield will need to ask you specific questions about your reason for wanting a sole named mortgage. For example, if you do not wish to apply for a joint mortgage because your partner has bad credit, you both may be able to get a joint mortgage, as there may be lenders willing to put both names on the mortgage.

Other reasons can include if you are looking to purchase a sole name mortgage for personal reasons, our advisors might be able to find lenders who are likely to approve. Most lenders are not comfortable with this arrangement because you're purchasing a property for you and your partner. Lenders favour both applicants to be on the mortgage. This is to avoid possible conflicts in the future, especially if the couple were to divorce.
Are you going through a divorce?
If you're separating from your partner or going through a divorce and looking at your mortgage options. You will find useful information here, divorce and separation mortgage advice in Sheffield.

The best decision is to speak to a mortgage advisor in Sheffield, who can provide you with a more tailored answer regarding your circumstances.
Mortgage advisors in Sheffield for married applicants
Again, we highlight the importance of always seeking mortgage advice in Sheffield before applying for a mortgage, particularly if you're married but want to get a mortgage in one name.

Our mortgage advisors in Sheffield specialise in complex mortgage applications. If you are looking to purchase a property in your sole name whilst married, please don't hesitate to contact us. Our specialist mortgage advisors in Sheffield have a wealth of knowledge and there is rarely a situation that they haven't come across before.
What is a property survey and which one should I choose?
Property Survey Mortgage Advice in Sheffield
Once you've had your offer accepted on a property, you are going to move onto the next stage of the mortgage process… getting the property surveyed.

A property survey is carried out to determine whether the true value of a home correlates to the amount that a buyer has offered for it. The survey will also show the overall condition of a property, highlighting defects and damages (if there is any).

Types of property survey
There are lots of different types of property surveys, however, three stand out as the most popular amongst the crowd:

Mortgage Valuation
Homebuyer's Report
Full Structural Survey


A property survey may be carried out free of charge depending on the lender that you use. If you are offered a free survey, you may be limited to what you can see on the report, or sometimes the lender may not give you a copy.

Each survey differs, some will provide great detail and tell you everything that you need to know about your property, whereas others will not. Usually, the more that you pay for a survey, the more in-depth the report will be.

If your survey shows something about the property that you weren't told about, by law you are allowed to approach the seller and work out a price reduction is necessary.

Mortgage Valuation
A Mortgage Valuation is the simplest property survey and usually the cheapest. They are carried out to find out the true value of a property.

Before committing to lending to you, your lender will need to find out whether the property's value matches how much you are set to borrow from them. If you put in an offer above the property's value and it gets accepted by your seller, it's good for them but not for your lender, therefore it's unlikely that your lender will accept your application. This is because they will have to lend more than the property is actually worth; this is called a down valuation. If you can make up the difference between what you said you'd pay and the mortgage amount, you'll be able to go ahead with your lender, although, if you can't then the lender will pull out of the deal.

Unfortunately, a Mortgage Valuation survey will not point out minor damages or repairs, it will just show clear structural defects that will require attention as soon as possible. If you want a report that goes further in-depth, you will have to pay more to upgrade to a different survey.

Homebuyers Report
A Homebuyers Report focuses on the safety of the property and how safe it is to live inside of it. The report will include problems such as mould, dampness or something that does not pass the current building laws.

This survey will be carried out by an expert. They will thoroughly examine the property from top to bottom so that they know exactly how safe it is to live in.

Full Structural Survey
As a Mortgage Broker in Sheffield, we usually recommend a Full Structural Survey, especially to those who are purchasing an older building. You sometimes need to be aware of everything.

This survey is the most expensive of the three and usually them all. This is because your surveyor will look at the whole property, often spending a whole day to determine its worth and to find out what's wrong with it.

If the purchase goes through and you now know everything about the property, you may have saved yourself a lot of money in the long run as if you didn't know about the damages, you couldn't act on them meaning that they could worsen overtime.

Do I need to get a survey on a new build?
New builds usually requires a different type of survey called a snagging survey. This will highlight both minor and major issues. It could be from a missing door hinge to cracks in the ceiling.

If the new build has already been built, it would be wise to have a property survey carried out on it before you move into it. Just because the property is a new build doesn't mean that there is nothing wrong with it. As a Mortgage Broker in Sheffield, we would always advise that you have some sort of survey carried out on a property.

Mortgage Advice in Sheffield
Whether you are a first time buyer in Sheffield or moving home in Sheffield, if you are struggling to choose the right property survey or just need general mortgage advice, feel free to get in touch with our team. Sometimes, it can be difficult to get the ball rolling when it comes to moving home, so make sure to get in touch if you need any help!

You can obtain the services of a surveyor to carry out a Homebuyers report or building survey through the Royal Institution of Chartered Surveyors.
Do Gambling Transactions Look Bad on My Bank Statements?
Lenders will look at various aspects when it comes to your bank statements. Their main job is to decide whether or not you are the kind of person that they are going to want to lend to. They want an applicant who can manage their finances responsibly and is going to be able to keep up-to-date with their mortgage payments.

Regarding your bank statements and what lenders look for on them, let's take a look at gambling transactions and how they can sometimes affect your ability to get a mortgage in Sheffield.
Mortgage Questions to Consider
What has it got to do with the lender whether I gamble or not?
Whether it's a once every couple of months or a regular occurrence, gambling in large amounts can often trip your mortgage application up. This also applies to you if you are frequently gambling. Whether you are losing money or not, you may be declined due to your gambling habits.

At the end of the day, no one can tell you how to live your life, although, it is always advised that you 'gamble responsibly'. Remember that a lender needs an applicant that doesn't oppose risk to them. They need someone who's going to meet their mortgage payments month on end; they want no risk of repossession.

Put yourself in your lender's shoes, would you lend money to someone who has the tendency to gamble frequently with large sums of money or someone who's always on top of their payments and doesn't gamble their money?
Is it still possible to get a mortgage if I've got gambling transactions on my recent bank statements?
It is in no way illegal to gamble, therefore, the occasional gambling transaction on your bank statements will not mean that you'll get automatically declined. They will assess the gambling transactions though, looking at whether they are reasonable and responsible. They will look at how frequent you gamble, the size of the transactions and how they relate to your income.

If you are infrequently gambling in small amounts, it should make no significant difference to whether you get accepted or not. Lenders may even just brush it under the rug. On the other hand, if you are a regular gambler, their viewpoint may be the opposite. You can't be eating into your overdraft due to gambling either, it will reflect badly on your application.

Is there anything else lenders wouldn't want to see on my bank statements?
Lenders will examine your bank statements carefully. They will be looking for lots of different things, but ultimately, they want to see your bank statements and get the confidence that you are a reliable applicant that they'd be willing to lend to.

If you are exceeding your overdraft limit month on month, your lender may begin to think that you struggle to take care of your finances. It's likely that they'll be okay with you doing so, however, we always advise that you be wary. They will also look for any other existing credit commitments that you have; it could be a credit card or a loan, etc. This is an important factor as you need to compensate a set amount each month to pay back the loan – the same as mortgage payments.

You should also look out for credit transactions from pay-day loan companies or otherwise known as "undisclosed" loan repayments. These can cause problems if you told them that you had no further loans to account for but then they appear on your bank statements. You need to be transparent with your lender and tell them everything prior to them viewing your bank statements.
What can I do to improve things?
As a mortgage broker in Sheffield, we will always say that the easiest way to improve things is to be sensible and if it's possible, plan ahead.

Usually, your lender will ask for a minimum of three months bank statements. So, in theory, before you apply, you can get yourself prepared and maybe tone down on things such as gambling and dipping into your overdraft. All the little things can sometimes help.

If you use a mortgage broker in Sheffield like ourselves, they will help you with this whole process and recommend the option that will benefit you the most. There are some specialist lenders out there that will ask for fewer bank statements than others, a mortgage broker may be able to help you access one of these deals.

At the end of the day, the message to remember is to gamble responsibly and take care of your finances!
Get in touch with a Mortgage Broker in Sheffield
If you are a first-time buyer in Sheffield and this is your first hands-on experience with the mortgage world, you should definitely get specialist mortgage advice from a mortgage advisor in Sheffield. They will guide you throughout the whole mortgage process and help you with your application and get you on track.
Should I Transfer My Buy to Let (BTL) Property to my Limited Company?
Buy to Let Mortgage Advice in Sheffield
We often hear from customer enquiring if it's it possible to exchange ownership of your property from your name(s), into the name of your limited company?
Buying as an SPV:
First of all, it is essential to know how a mortgage lender will approach purchases from Limited Companies. There are not many lenders that will accept Ltd Company applications through anything other than an SPV (Special Purpose Vehicle) Company.

An example of this is a company set up expressly to invest in properties like this. When registering your company, your registration will include a SIC (Standard Industrial Classification) Code that maps out the types of business in which the company will participate. Mortgage lenders usually would not accept applications from general trading companies that can trade in other areas.

For example, if you have a plumbing and heating company, you will need to set up an entirely separate company to own the properties in your Buy to Let portfolio instead of buying them through your plumbing company. The SIC codes typically accepted are 68100, 68201, 68209, 68320, though this varies depending on the lender.

To find out more information about SIC Codes, consult the Government here.
Advantages & Disadvantages
There are both advantages and disadvantages to purchasing a Buy to Let in Sheffield under an Ltd Company. For example, you will find that not all mortgage lenders will consider applications from SPV's. Instead, they prefer to limit their lending to lone applicants or couples applying in their name(s). As such, individuals will find themselves with a broader range of products than those using SPV's.

When it comes to the lenders who would lend to an SPV, the mortgage rates would also typically be much higher than the rates offered to individual applicants. A positive take away though, is that the way rental income is taxed has been changed in recent years, meaning that many people prefer the advantages generated by SPV ownership (relating to how payment is taken and how that income is taxed) as they more than makeup for any extra interest charges or lack of product choice.

The first thing we always recommend customers look at when evaluating your options of buying your portfolio under an SPV is speaking with a specialist tax advisor for advice. They will assess factors such as external income sources and the rate of personal income tax you pay, seeing how they will affect your overall tax status. This will help decide whether or not individual or SPV ownership is the way forward for you.
Should I transfer properties that I already own to an SPV?
As discussed, the main factor in your decision will be your tax position. This becomes a little more complex when you decide whether or not you want to transfer properties you already own from individual ownership to company ownership.

The problem here is that it isn't just a simple transfer. This type of transaction is a change of legal ownership. Your Ltd Company is a separate corporate identity so that the transaction will be counted as a purchase from you as the individual to the SPV. Stamp duty charges, legal costs and new mortgage and valuation charges will be in full effect.

It's important to remember that Limited Companies come with running expenses and legal obligations. That said, these may be offset by the possibility of tax-deductible costs or long-term tax benefits.

If a landlord is looking to increase their property portfolio, it would probably work better to keep the current property under their name and only use the SPV to buy any other properties. That way, you avoid any switching costs and unwanted legal fees for something you already own. That being said, each case is different, and you may find that the benefit of a switch far outweighs any of the downsides that come with it. It's all depending on the circumstance.

As we've covered, this is a particular territory. If you are considering taking this route, please get in touch with an experienced and knowledgeable Buy to Let Mortgage Advisor in Sheffield. 

Here at Sheffieldmoneyman, we have many Buy to Let experts on hand who provide top quality mortgage advice in Sheffield, backed up by introductions to appropriately experienced accountants and solicitors as and when you need them.

To speak with a Mortgage Advisor in Sheffield, please Get in Touch and we will see how we can help.
Spring Clean Your Mortgage In Sheffield
Mortgage Review Advice in Sheffield
Have you been stuck on the same mortgage rate ever since you've bought your property? Do you feel like you should be able to access a better deal? If so, it may be time to spring clean your finances and get a mortgage review.


What is a Mortgage Review?
A mortgage review is simply a look-over of your current mortgage product to see whether you can access a better deal or not.

When requesting a mortgage review, your Mortgage Advisor in Sheffield will take a look at your current mortgage deal, looking at your rate of interest, monthly payments, etc. They will then compare this to new products available on the market and see whether they are better suited to your personal and financial situation.
Why should I get a Mortgage Review?
Spring cleaning your finances and getting a mortgage review could allow you to access highly competitive mortgage rates. If you've been meeting your mortgage payments and maintaining a good credit score, you may be eligible to get a better mortgage deal.

Getting your mortgage reviewed and then switching to a new lender is called a Remortgage. When there are that many different deals coming to and from the mortgage market, it may be a good idea to consider Remortgaging in Sheffield.

When applying for a mortgage review, you must know that it's no guarantee that you'll be able to receive a better mortgage deal elsewhere. If we can't find a better mortgage product, we will be open and honest with you and recommend that your current deal is still the best choice for you.

How can I get a Mortgage Review in Sheffield?
There are lots of different ways to get your mortgage reviewed in Sheffield. As a Mortgage Broker in Sheffield, of course, we would recommend taking up our free mortgage review offer. As part of our mortgage review process, we will search through 1000's of mortgage deals, in order to try and find the right one for you. If we manage to find you a great deal that is well-suited to your individual circumstances and you're happy to proceed, we will then start the documentation process and submit your new mortgage application.

There are various comparison sites out there that you can utilise to search for mortgage deals. However, in some instances, these sites will only compare rates of interest without taking into account other costs that could come with getting a new mortgage, such as product set-up fees and early repayment charges, etc. Furthermore, by using a Mortgage Broker in Sheffield like us, you will benefit from consumer protection.

You can also choose to go directly to your current mortgage lender. When getting a mortgage review and looking for Remortgage Advice in Sheffield, choosing this option may not always benefit your situation. The reason for this is that lenders will only have their own in-house products to offer, they will not be able to access deals elsewhere. Lenders can also sometimes have long waiting lists, which is no good when you want to switch deals sooner rather than later. A Mortgage Broker in Sheffield like us will be able to get you booked in for a free remortgage consultation within 24 hours of your initial enquiry.

Remortgaging and early repayment charges
When you are tied into a mortgage deal and still want to remortgage, you may find you have to pay a fee to switch deals. An early repayment charge (ERC) is a fee that you'll have to pay if you pay off a loan too early, or switch mortgage products mid-way through a fixed period.

Our Mortgage Advisors in Sheffield will take into account any early repayment charges when assessing the financial benefit of applying for a remortgage.

If you've finished your mortgage term and end up falling onto your lender's standard variable rate of interest (SVR), it's unlikely that there'll be any ERC to pay. You should always know when your mortgage initial fixed period is due to finish, a lender's SVR is likely to be higher than your fixed rate of interest, as SVR tracks The Bank of England's base rate plus their own percentage.

Remortgage Advice in Sheffield
As a Mortgage Broker in Sheffield with many experienced remortgage experts on our team, we strongly advise that you take advantage of a free mortgage review. Generally, a mortgage is your biggest financial commitment, with this in mind, it's always best to find out whether there are some sizable savings to be made.

Now that you know how a mortgage review works and how having one could benefit you financially, you should get in touch with our team. We are available from early until late, 7 days a week – contact us at a time that best suits you! There has never been a better time to spring clean your finances in Sheffield.

We can't wait to hear from you and help you get through your remortgage.
Mortgage Advice in Sheffield for Newly Qualified Teachers
Newly Qualified Teacher Mortgage Advice in Sheffield
Once you have passed the necessary exams and have achieved your goal of becoming a newly qualified teacher, it's time to find yourself a teaching position and get started in the classroom. You may find though, that if you aren't close enough to that particular school, you may need to look at Moving House in Sheffield.

What is about to follow, is a stressful stretch of time that may feel, even if only a month or so, like it goes on forever. You'll be looking for a place to move and balancing the struggle of homeownership whilst getting comfortable in your newfound role as a teacher. You are not alone in this situation though, as we have helped many customers with this in the past.
Mortgages for NQTs
You may find it difficult trying to find a Lender willing to offer a mortgage to newly qualified teachers. This is because of reasons such as having no work history, or being on a temporary contract. Even though this is the case, do not worry, as it is still possible to obtain a mortgage as a newly qualified teacher.

On occasion, some lenders will offer reasonable and deals with those working in this particular sector. The key to this is finding the right lender, which is usually the hard part; this is where our dedicated mortgage advice team in Sheffield can help search thousands of deals to find you the most appropriate mortgage deals and rates.
What mortgages for NQT teachers are there?
The different types of mortgage available for NQTs can include:
Shared Ownership Mortgages
Variable-Rate Mortgages
Here are some of the critical things that can get considered:
No previous employment history required.
Mortgages available up to one month before the start of the first contract (so you can apply in the August for example).
Up to 95% loan to value.
A 12-month first post-contract can get treated the same as a permanent role.
How a Mortgage Advisor in Sheffield Can Help
Our loyal, hardworking and experienced Mortgage Advisors in Sheffield know lending criteria like the back of their hand; they have years of experience in helping people with their mortgage situations. You'll find there are many benefits to using a trusted Mortgage Broker in Sheffield.

To find out your options, Get in Touch and our team will take some details from you, to find out whether or not you can get a mortgage suitable to your personal circumstances.
What is a 95% Mortgage?
Great news, 95% mortgage have returned! in laymen's terms, a 95% mortgage is where you borrow against 95% of a property's price, making up the 5% excess with your deposit. Here is an example with a property valued at £150,000: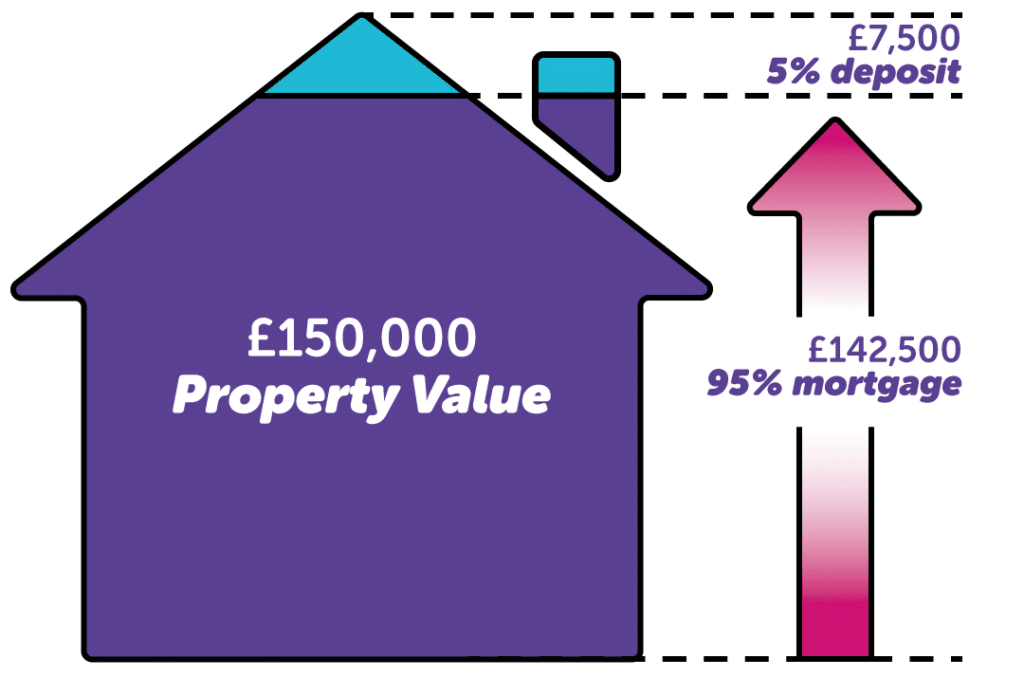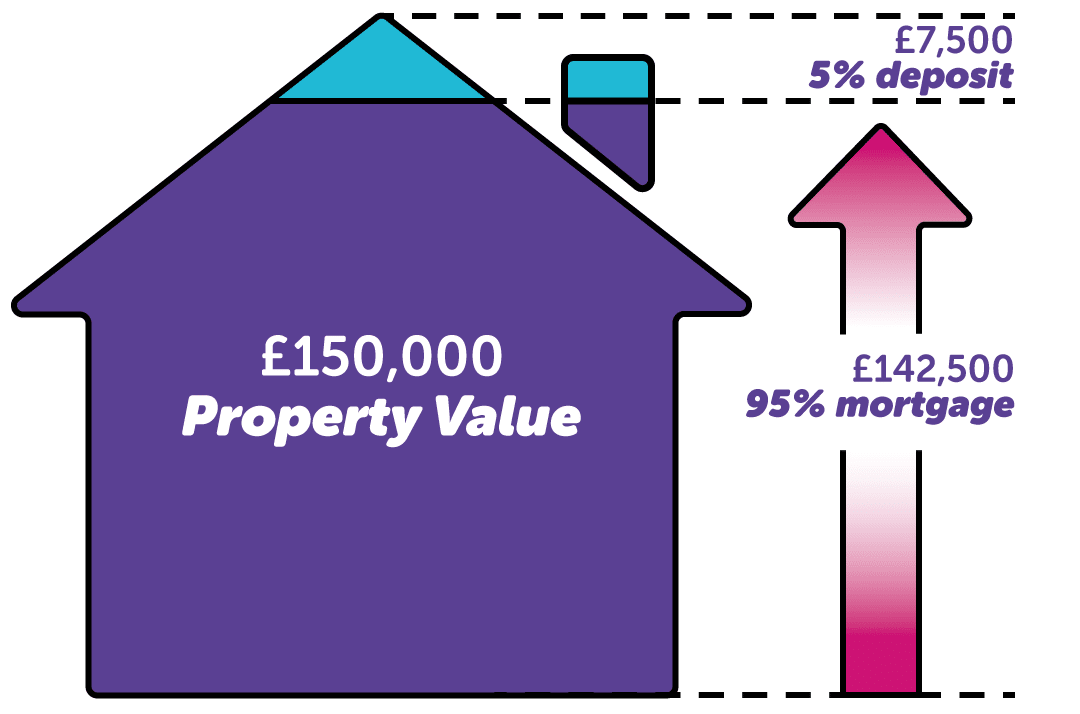 If a property gets valued at £150,000 and you manage to receive 95% mortgage offer on the property, you will need to put down your 5% deposit of £7,500 and borrow the remaining £142,500.
95% Mortgage Advice in Birmingham
Following the March 2021 Budget, the Government released a Mortgage Guarantee Scheme for Lenders to push confidence back into the property market to help any home-buyer purchase a property with a 95% mortgage. The scheme only works with First Time Buyer or Home Movers in Sheffield.  

Chancellor Rishi Sunak confirmed that many credible lenders are already backing the scheme, which is excellent news for the mortgage market! What we do know is the scheme will run until December 2022, so you have plenty of time to take advantage of it.

The scheme has specific criteria that you'll need to match to qualify for it. Your Mortgage Advisor in Sheffield will check to see if you meet the scheme's requirements.

Our Mortgage Broker in Sheffield offers all of our customers a free, no-obligation mortgage consultation. During this process, we will be able to recommend the best-tailored mortgage based on your circumstances.
Can I get a 95% mortgage?
Whether you are a First Time Buyer in Sheffield or planning on Moving Home in Birmingham, you should be able to access a 95% mortgage (depending on your financial and personal situation). Before being accepted for a 95% mortgage, you'll need a good credit score and be required to prove that you'll be able to meet your monthly mortgage payments.
Improving your credit score
Having a good credit score will always benefit your mortgage application and chances of being accepted for your 95% mortgage. Ways to improve your credit score can include: 

???? Paying off any outstanding debts that you owe. 
???? Closing unused credit accounts.
???? Registering on the electoral roll.
???? Removing your financial links to others

There are many different ways to improve your credit score, so if you need further credit score Mortgage Advice in Birmingham, don't hesitate to contact our team. Alternatively, you can look at how to improve your credit score article, which goes into greater detail.
Affordability
You will never be accepted for a mortgage when you cannot afford one, and that's why lenders need to measure your affordability for a mortgage before getting accepting. They will factor in all of the costs of buying a home in Sheffield and assess whether you'll be able to meet your monthly mortgage payments. You need to provide details of your income and monthly outgoings (usually through bank statements) so that your affordability for a mortgage gets backed up.
Can my family help me get a 95% mortgage?
With the rising popularity of gifted deposits, as a Mortgage Broker in Birmingham, it's not unusual for them to get used to mortgage deposits. A gifted deposit is a sum of money given to an applicant to aid their mortgage application, either by covering the whole of their mortgage deposit or a portion of it. It's usually parents who give their children a gifted deposit.

Gifted deposits can boost an applicant's mortgage application. If the applicant already has a portion of their deposit saved up, this extra cash boost could push them above the 5% mark, and they may have even more of a chance of being accepted for a mortgage.

You should know that a gifted deposit is strictly a gift and not a loan; lenders won't accept it otherwise.
How do I choose the right 95% mortgage?
There are many different types of mortgages available, so when you choose a 95% mortgage, you will want to make sure that you select the best option for your financial and personal situation.

For example, if you choose a 95% Fixed Rate Mortgage, your interest rate will remain the same through your mortgage term, whereas if you choose a 95% Tracker Mortgage, your interest rate will follow the Bank of England base rate.

Alternatively, you could pick a 95% Interest-Only or a 95% Repayment Mortgage. An Interest-Only mortgage will allow you to pay cheaper mortgage payments each month until you need to pay a lump sum at the end of your mortgage term (usually taken out for Buy to Lets). A Repayment Mortgage will combine interest and capital each month into one payment.
How can a more considerable deposit help with my mortgage?
Usually, the bigger deposit that you can provide and evidence for your mortgage application, the better. It's better to save up and prepare for your mortgage journey, as lots of costs can come with it! Things that might crop up include higher interest rates, remortgaging difficulties due to less equity, and negative equity. 

Having a larger deposit, for example, a deposit of 10-15%, would not only lower your interest rate significantly but would also put more equity in the property and reduce the risk of negative equity as you would be borrowing less against the property in question. 

There is good news though, some of these costs can get avoided if you are well prepared. If you are saving for a property, sometimes it may be better to save up just a little more to boost your total deposit.

If you decide to use a Mortgage Broker in Sheffield, we will ensure that you are in the best position possible to get accepted for a mortgage. You may not need a larger deposit as other factors in your application may be perfect! You won't know until you get in touch with our Mortgage Advisors in Sheffield today.
Can I Get a Mortgage With Bad/Adverse Credit in Sheffield?
Bad Credit Mortgage Advice in Manchester
Unsecured credit is a serious topic, and it's not uncommon for clients to approach us for Specialist Mortgage Advice in Sheffield when they have missed payments or have a low credit score.

All it takes is missing payments, like your mobile phone contract. You might get faced with a default attached to your credit report. It might leave you in a bad situation to obtain a mortgage near future because it indicates to the lender that you are at a high risk of not keeping up with your monthly repayments.

The good news is just because you have missed payments or have a default, it doesn't necessarily mean you can't get a mortgage, but you'll likely need some specialist help because it is pretty likely you will get turned down for a mortgage by a High Street Bank who may be risk-averse, especially if you only have a smaller deposit. 

Specialist Lenders will want to know the default got registered against you, and long ago it was, the more likely it is that we'll be able to help you, mainly if it was down to a life event such as separation, ill-health or redundancy. People make mistakes when they are young sometimes, and it can feel that these financial mistakes come back to haunt you.

We may also help you if you have had historic mortgage arrears or a County Court Judgement (CCJ).
Bad Credit Mortgage FAQs
We have compiled some bad credit scenarios answers to frequently asked questions regarding Bad Credit Mortgages in Sheffield & Surrounding Areas. Don't worry if your questions aren't listed below, as we always deal with new challenges, which our fantastic team of advisors always try to get by.
What will my mortgage advisor in Sheffield need to see?
Whatever the credit problem you have had in the past, we are going to need to see an up-to-date copy of your credit report, which you can usually obtain for free online.

It's essential that you obtain your credit report before applying for a mortgage if you have any doubts about your credit history because multiple credit searches can further damage your credit rating.
I have a good income but bad credit. Can I still get a mortgage?
The answer to this is very dependent on circumstances. Some customers find themselves a little confused by their credit. It may look bad, they may have had issues, but they have a solid income & enough deposit to reduce a rate and get a suitable mortgage. Because of risk, lender's won't allow them to borrow the amount they'd like or anything at all.

The lender needs to be sure that you can pay back your mortgage payments without a likelihood of any arrears occurring. In the event of these arrears, the lender may need to repossess the home, which is something they want to avoid. Though it might sound complex, there are still options for people looking to get a mortgage with bad credit, with slightly higher rates. Getting in touch with a Specialist Mortgage Advisor in Sheffield will be a practical next step to you finding a potential mortgage.
I've had mortgage problems before. Will that stop me from getting a mortgage?
Sometimes, for reasons entirely out of your control, you may find yourself in trouble financially and unable to keep up the mortgage payments you previously could pay with ease. These circumstances are unfortunate, and whilst it could be a momentary blip that you can pay back not too long after the damage gets done, a missed payment might appear on your record.

There may be other credit issues too that you've encountered during this time, and when it comes to getting a Remortgage or a new mortgage after Moving Home in Sheffield, you may find yourself struggling. Again, this always comes down to risk. Can the lender trust you? Will you do this again?

Luckily, as providers of Specialist Mortgage Advice in Sheffield, we have had lots of experience helping customers who previously had a mortgage and have since ended up with Bad Credit. If this explains your situation, then speaking with a dedicated mortgage broker in Sheffield will be crucial to finding future mortgage success.
What other types of adverse obstacles are customers faced?
Customers may find themselves with an array of different adverse problems regarding their credit, all of which can negatively affect the mortgage process. These issues vary from, but are not limited to;

???? Missed Mortgage Payments
???? Credit Card or Loan Defaults
???? County Court Judgement (CCJ's)
???? Bankruptcy

Whilst these are all awful situations to find yourself in, it's not the end of the world. The process may be longer, it may be more challenging, and you may end up on a higher rate, but there are bespoke lenders out there, some of which we have on the panel, who will accept you depending on the circumstances.

To increase your chances of success and open yourself up to better rates, you should focus on improving your credit score. We have a handy guide we've written on How to Improve Your Credit Score, which will hopefully put you in a better place for obtaining a mortgage in the future.
Get in Touch for Bad Credit Mortgage Advice
If you need some expert mortgage advice in Sheffield regarding a Bad or Adverse Credit situation, speak to an responsive and experienced team of mortgage advisors in Sheffield. We'll use our accrued twenty-plus years worth of knowledge to our advantage, working extra hard to ensure we have a clear and concise plan of action for your credit score and, hopefully, if all goes right, an eventual mortgage for you.